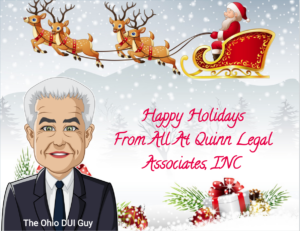 During the holidays folks take to road to travel to spend time with extended families and friends. AAA, states traveling during the holidays has continued to increase each year except last year due to the 2020 covid outbreak, however 2021 looks to be the holiday travel recovery year. Nearly five million people are expected to be traveling in Ohio this holiday season, and 90 percent of those will be driving.
Due to the amount of traffic during the holidays there is an increase in accidents linked to DUI (driving under the influence). The National Highway Traffic Safety Administration (NHTSA) states that, in the last 5 years, around three hundred individuals have been killed in DUI / OVI accidents during the week of Christmas and New Year's Day. Each year in Ohio, DUI related accidents have been the cause of several deaths during the Thanksgiving and Christmas holidays, according to law enforcement in Ohio.
With the concern of increased drunk driving leads to greater OVI enforcement during this time of year. Local law enforcement and the Ohio State Highway Patrol will add additional OVI / DUI patrols and DUI / OVI checkpoints. The National Highway Traffic Safety Administration (NHTSA) has started again its yearly 'Drive Sober or Get Pulled Over' campaign during the holidays urging all Americans to avoid consuming alcohol and driving a motor vehicle.
Motorist stopped by law enforcement face being charged with a DUI / OVI offence along with a variety of additional penalties. loss of their drivers, costly fees, court cost and jail or prison time are just a few of the consequence's should a person be convicted of a DUI / OVI charge in Ohio.
The most responsible and law-abiding individuals can be confronted with an OVI charge. That doesn't mean that everyone charged with DUI in the state of Ohio is bad, nor does it mean that they are guilty.
Been Charged With a Ohio DUI / OVI? Call The Ohio DUI Guy Today for a Free Case Review: We will Come to You! 440-516-3800
Should you or someone you know be pulled over and charged with an Ohio DUI / OVI charge during this holiday season the Ohio DUI Guy and his team with over 44 years of legal experience are here 24/7 to help.